Introducing….
Name?
Kushal 
What is your role in the band?
Bass
Best / worst / funniest story from being in secret company so far?
Every day follows a cycle of the worst/best moments, which apply across the band! Every morning we wake up from our innocent dreams, (i for one dream about my time in the jungle growing up with my best mates ballo and that slimy shit bag haa, and all those mystical rides i took across the Arabian desert on my magic carpet) into the worst moment where we find ourselves barely awake in our piss poor jobs, getting relentlessly slammed by the big fat cogs of daily monotony. Did i say cogs? i meant cock…Anyway, the only saving grace of the daily grind is our studio, which brings with it the best part of each day. However as is with all good, there comes a bucketful of freaky. For us that manifests in the form of our own personal alien called graham. Who has decided to make the band his personal fucking experiment, by placing us as prime contestants on an alien gameshow! Wanna know more right?! Ask us!
Your first ever album?
It was either 5ive or backstreets back, all those dead legs and the relentless abuse was totally worth it. That shits my jam!
The album that inspires me most?
It's hard to pinpoint one album where most of the inspiration comes from, over the years they have varied, however 'in rainbows' by Radiohead has made a major reappearance as of late.
My most over played record?
By far racecar is racecar backwards, by Reuben.  Me and a friend of mine have had many a drunk walk home, being those twats, singing the album in its entirety!
Favourite song for the good times?
Currently- strictly 4 my jeeps by Action Bronson.
Favourite song for bad times?
Tears of the policeman – originally by Stu Ham, ask me sometime, I'll play you my rendition.
Favourite album artwork?
Actin crazy by action bronson,  dude riding a torpedo loaded shark, with lazer beam eyes, flying through space.  Zero fucks given.
The record i'm most looking forward to hearing in 2015 is…?
There are quite a few albums to look forward to this year, muse/ qotsa/the maccabees/ incubus etc, but i cannot wait to hear radiohead's new album! It has no release date as of yet, but it has been a long time coming Since 'king of limbs' back in 2011, which no matter what anyone says was an  absolute banger!
Introducing….
Name?
James
What is your role in the band?
Guitarist
Best / Worst / Funniest story from being in Secret Company so far?
The best, worst and funniest story can probably be all rolled into one with our journey to play a show in Liverpool last year. Although Tim has already mentioned The Great Escape last year and that was all sorts of fun…Anyhow lets roll with this one – Are you sitting comfortably? okay, as a poor ass band with no money, we had a lot of problems – broken cars, broken equipment and well, just everything broken. 'Cursed' we liked to call it. Everything was just shit, no money to eat, no money to even go to the toilet… It's funny how nothing really changes.
Anyhow, we get to the venue which was like one giant dive into a small bucket of grot, but we lap that shit up. The owners deaf dog was just milling around in the crowd attacking ppl and watching the bands (I think he had a little bowl of kestrel in the corner), and cocaine was being delivered like takeaway to the venue via some lad on a moped. (Have to say the people there were bloody lovely!…… they were high as shit)
Also to be noted was the performance of a whacky Scottish solo act called David Arcari. Check him out he's a fucking savage. Pushing on 60 and still touring up and down the country performing to the bar staff and his wife. It was a performance that will probably stay in my nightmares until I die. The whole gig was fucked up to be honest. 'Confusing and dangerous for the mind' – I heard one Essex boy say…. I think that was Tim actually….
We were all totally munched by the time the last band had finished who just so happened to think they were Europe mixed with Led Zeppelin of course.
Ended up hitting the town after and getting a bit lary on the streets. Met some friendly scousers, a lot of tracksuits and partied back at the hotel, run a deep bath and woke up to feeling like ass for the 6 hour drive home, only to play a hometown show later that evening…. All in all bloody wonderfully terrible, but we did get to feel like REAL rockstars momentarily. whoop. (you just had to be there ;))
Your first ever album?
Was actually a cassette tape – 'Music for the jilted generation' by the Prodigy
The album that inspires me most?
X/O by Elliott Smith. What a gifted man he was. One of the few artists that could make a lot of other artists and music just seem stupid to me no matter how good I once thought it was. This album can generate a lot of emotions good and bad. Lyrically deep and melodically trippy. The best albums make you feel something. And X/O does all of that for me.
My most over played record?
Recently I've been playing Catfish & the Bottlemen's album 'The Balcony' to death. Its been rinsed. Van is the man ain't he.
Favorite song for the good times?
Dope Nose – Weezer
Favorite song for bad times?
Trouble On My Mind – Pusha T, Tyler, The Creator
Favourite Album Artwork?
Probably U2's songs of innocence…. FUCK OFF!
Dookie by Green Day enters my head because there is so much going on in the cover. I like detail and clutter….
The record I'm most looking forward to hearing in 2015 is…?
I must say as a fan of their music in my younger days Incubus' next work should be interesting. But id say I'm most looking forward to Maccabees album based on their last 2 records being rinsedddd.
Introducing….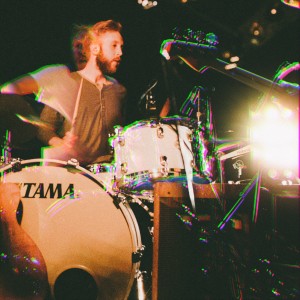 Name ?
Tim
What is your role in the band?
Drums/ social fuck-ups
Best/worst/funniest story from being in Secret Company so far?
Great Escape in Brighton! Us lads like a road trip, and we had a series of gigs lined up over the weekend of the festival and a place to crash, so we were going to make a proper weekend of it. We played our first gig in the courtyard outside our managements offices andopposite Sticky Mike's. We arrived to the fucking Golden Ticket of announcements- a bottomless rider for the bands!! Praaaaaise be to Krishna!!! We played the show, then had about 8 hours til we played again in the town…
We pretty much all stumbled up to the venue separately, it looked like a flock of short sighted birds migrating, 8 hours later to be told we had to do a recorded interview with Spindle Magazine in half an hour. Time for a swift pint then! The interview was hilarious! Slurring, swearing, questionable flirting, Kushal making outlandish demands for sequinned sunglasses from a girl in the crowd. Just about got through it, got offered a double JD and Coke, then had to play a set…
We played in what was effectively a broom cupboard, it was sticky, sweaty, smelly, I counted in the wrong songs, the other lads were stumbling into each other, and me, it was mental, but people loved it, proper intimate party vibes! To date I think it's our manager's favourite gig we've done. Same time next year Brighton!
So there it is kids, nothing bad can come from alcohol, in fact it improves you, greatly…
My first ever album?
Free All Angels by Ash, but don't mention that.
The album that inspires me most?
Probably Sam's Town by The Killers. It's powerful, it's delicate, and aside from anything else it was a really daring move to do a concept album after blowing up with Hot Fuss which was effectively an indie pop demo, which got re mastered and made them huge. And Sam's Town is full of tunes suitable for the festival headline slots and the arenas!
My most over-played record?
I Should Coco- Supergrass
Favourite song for the good times?
Anything by Louis Jordan
Best song for the bad times?
Coldplay- Death and All His Friends
Favourite album artwork?
When I first saw the cover after listening to the album a lot, I thought Led Zeppelin I is the perfect visual representation of the sound of that band!
The record I'm most looking forward to hearing in 2015 is…
I don't know about a favourite, but Zane Lowe normally steers me right with his future festival artists, Hozier was one last year and his album is sick! But yeah I don't know for this year, we can all hope Ke$ha has a new band wagon jumping, skin crawlingly fame grabbing/ self whoring in-the-name-of-success offering for us, right?! Did someone say TIMBEEEEEEEEER?! So yes, some new Ke$ha please x
Introducing….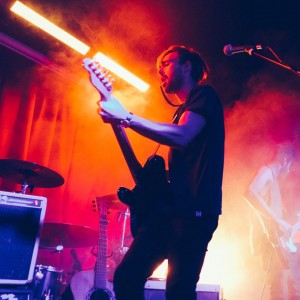 Name?

Scott Revell
What is your role in the band?
Frontman
Best/worst/funniest story from being in Secret Company so far?
Unfortunately I am unable to tell the best story as its repercussions simply wouldn't be worth it. Actually 90% of our best stories would follow that rule. However…
Our studio is on a grotty farm in the middle of nowhere and late one night Tim, Kushal and I were rehearsing a couple of songs and in bursts an older guy with a mac on and holding some kind of case which at the time I believed to be a concealed weapon. Slightly startled we all conveyed a look to each other as if to say 'who the fuck is this? Shall we hurl our instruments at him and then bury his remains with the cow muck before he rapes us?'
We inhibited our initial some what over the top survival instinct and let him speak. He said he heard us from outside, really loved what we were playing and asked if he could jam with us. Still unsure if he was going to chop up our limbs and use them for chess pieces, his concealed weapon soon turned into a hard case for his saxophone! So we ended up playing through some songs with him ad-libbing over the top and it worked like a charm. Completely off the cuff and spontaneous, it was awesome.
Your first ever album?
The Offspring – Conspiracy Of One (yeahhhhh boiii)
The album that inspires me most?

Jeff Buckley – Grace
My most over-played record?

Not sure. In an old car I had a tape player with only a Simon & Garfunkels greatest hits tape, so I played that on repeat for about 18 months solid. I still listen to that though every now and then though.
Favourite song for the good times?
Lil Wayne ft. Drake & Future – My Bitches Love Me. – The winner.
Best song for the bad times?
John Mayer – Stop This Train
Favourite album artwork?
Fleetwood Mac's Rumours is pretty good. Mainly because Mick Fleetwood looks like a fucking champion.
The record I'm most looking forward to hearing in 2015 is…?
Unsure of what is set to be released this year I just googled it and found out that Ricky Martin is set to release an album this year! Errm I wanna hear some new Frank Ocean tunes